Join us in shaping the future of medical imaging and helping to save lives
Intrasense is a French medtech company specialized in medical imaging. With 20 years of experience and market presence, it develops and markets medical imaging visualisation and processing solutions worldwide. Based on their recognised expertise in radiology and oncology and their unique clinical expertise, our employees work every day to develop cutting-edge tools for healthcare professionals with a specific goal in mind: to participate improving quality of care.

With the support if its investors, Intrasense is expanding its line of solutions and growing its operations to target new markets, with a particular focus on oncology. We are ambitious, passionate people who believe that the future lies in innovation.
"Being an Intrasense shareholder is a chance to contribute to the growth of a fast-growing medical imaging specialist.

Our investments and commitments towards R&D activities aim to support clinical routine by providing high precision tools. Through our advanced technologies and passion for imaging, we are shaping the future of healthcare for the benefit of patients and healthcare professionals, creating value for our partners and our investors."

Nicolas Reymond, Chief Executive Officer
Board of Directors
The members of the Board of Directors, rich of diverse experiences and profils, are heavily involved in supporting the company in its value-creation policy.
François Nicolas
Chairwoman of the board and independent director
Senior Vice President Research, Development and Innovation and Chief Digital Officer of the Guerbet Group, François Nicolas has a significant expertise in the development and marketing of healthcare solutions in France and internationally. He worked on the development of interventional X-ray systems at GE Healthcare and then as Vice President of Integrated Diabetes Care at Sanofi. François joined Guerbet in 2017 to lead the creation of a division focused on artificial intelligence solutions in radiology.
Michèle Lesieur
Independent director
Michèle Lesieur has extensive experience in executive roles in the healthcare industry among both large corporates and mid-sized firms. Michèle led the international medical imaging business line of Philips for a number of years before serving as CEO of Philips France between 2011 and 2016. In 2016, she was appointed as CEO of Supersonic Imagine, a listed medical imaging firm, and oversaw the acquisition of the company by the US company Hologic in 2019.
Anne Larpin
Independent director
Anne Larpin has a strong background in finance, having served in senior finance and risk management roles for listed multinationals. She has extensive experience in the healthcare, transport and logistics industries. Anne led the transformation strategy of the French healthcare industry player NEHS between 2014 and 2019 and brings deep expertise of financial and strategy matters in the digital technology and radiology sector. Since March 2020, she is also a member of the French financiel Supervisory and Control Authority (ACPR).
Patrice Rullier
Independent director
Patrice Rullier currently serves as Deputy CEO of Oberthur Cash Protection, a leading company in smart security systems. He has extensive experience in high-tech industries and international businesses. He has served in various software industries, such as video games and GPS systems. With over seven years spent in Asia, Patrice provides deep insights into various business, marketing and innovation matters.
Are you an Intrasense shareholder, or would you like to become one?
Intrasense is listed on euronext growth and is eligible for the share savings plan for smes (pea pme)
ISIN code : FR0011179886
Bloomberg : ALINS:FP
Reuters : ALINS.PA
No. of shares : 31.327.414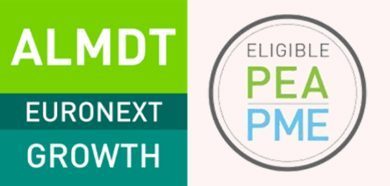 Track the share price
Shareholding structure as at 15 june 2023